HMAS Coogee
Type: Boat Dive - Wreck
Depth: 25 - 35 metres
Rating: Advanced Open Water
HMAS Coogee was a 762-ton armed patrol vessel/minesweeper operated by the RAN during the later stages of World War I. She was built by JL Thompson and Sons of Sunderland, England, as the SS Lancaster Witch for the Isle of Man Steam Navigation Company that operated between Liverpool and the Isle of Man. This company became bankrupt in 1888 and the vessel was purchased by Huddart, Parker and Co Pty Ltd of Victoria, renamed Coogee and sailed to Melbourne. She was then employed on the passenger and cargo ferry run from Melbourne to Launceston. Throughout her career she suffered a number of collisions, and near misses, and during the early part of World War I was laid up in Melbourne.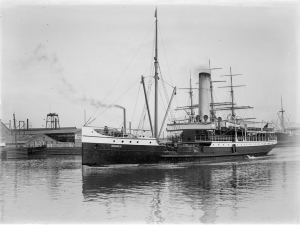 Coogee was decommissioned on 25 February 1919 and subsequently returned to her owners. SS Coogee was once again laid up in 'Rotten Row' in Port Melbourne although she was chartered by the Post Master General's Department in 1921 to work as a sea bed cable repair ship in Bass Strait.
She was sold for scrap in 1927 and her engines removed before she was scuttled outside Port Phillip Bay on 27 February 1928. Her wreck lies in 35 metres of water, about four kilometres offshore between Point Lonsdale and Barwon Heads, and is a popular dive site.
Location: Latitude: 38° 18.411′ S Longitude: 144° 34.306′ E