From here you can find out about the many different courses that Diveline provides as a 5 star PADI Centre. We pride ourselves on providing a safe and fun way to learn scuba diving which will open up many opportunities for you to see the underwater world.
If you are new to scuba diving and are interested in experiencing or learning to dive, then Start your Adventure Here.
If you would like to Advance your Skills then check out the opportunities in the Advanced Scuba Diver, Rescue and Many others.
All the amazing specialties that we provide at Diveline are avaliable here.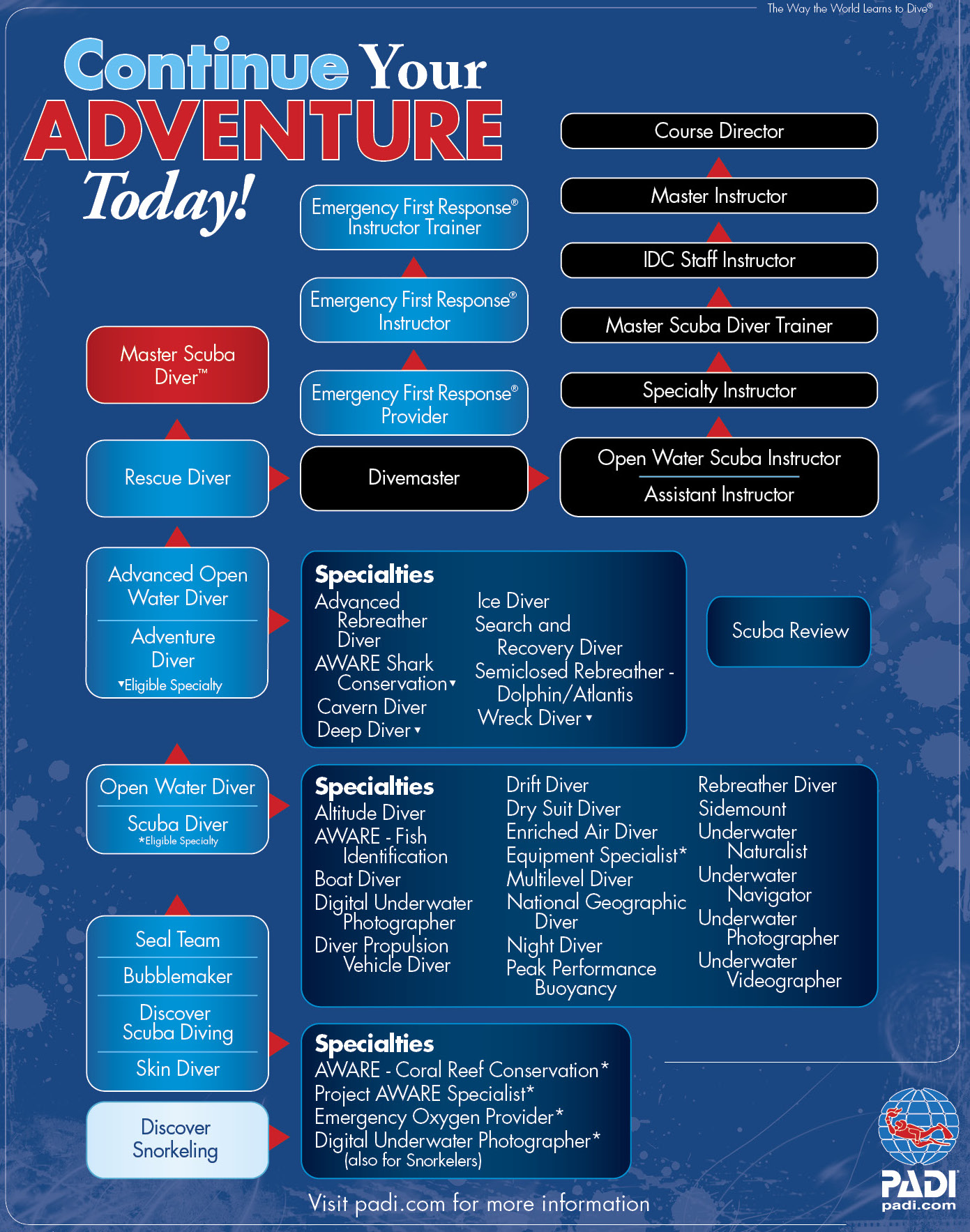 Start Date
Course Type
End Date
Places Available
Price
15 Dec 2023
Discover Scuba Diving
15 Dec 2023
2
AU$ 249.00

Knowledge Development 1

Mon 11 Dec 2023
02:04 AM

Confined Water 1

Mon 11 Dec 2023
02:04 AM

Dive 1

Mon 11 Dec 2023
02:04 AM

16 Dec 2023
Deep Diver
17 Dec 2023
6
AU$ 725.00

Knowledge Development 1

Thu 14 Dec 2023
07:00 PM
60 minutes
Teams Meeting

Knowledge Development 2

Thu 14 Dec 2023
08:00 PM
60 minutes
Teams Meeting

Dive 1 (optional)

Sat 16 Dec 2023
08:00 AM
03 hours 30 minutes
Boat Dive - Tbc

Dive 2

Sat 16 Dec 2023
12:00 PM
03 hours 30 minutes
Boat Dive - Tbc

Dive 3

Sun 17 Dec 2023
08:00 AM
03 hours 30 minutes
Boat Dive - Tbc

Dive 4.

Sun 17 Dec 2023
12:00 PM
03 hours 30 minutes
Boat Dive - Tbc

Instructor(s)

: Ben Barnewall,

16 Dec 2023
Discover Scuba Diving
16 Dec 2023
2
AU$ 249.00

Knowledge Development 1

Mon 11 Dec 2023
02:04 AM

Confined Water 1

Mon 11 Dec 2023
02:04 AM

Dive 1

Mon 11 Dec 2023
02:04 AM

16 Dec 2023
PADI Open Water Diver
23 Dec 2023
0
AU$ 795.00

Complete E-Learning (Must be complete prior to start date)

Thu 14 Dec 2023
12:00 AM
Online E-Learning

Medical Form (Must have a completed Medical Statement prior to start)

Thu 14 Dec 2023
12:00 AM

Liability Release Form

Thu 14 Dec 2023
12:00 AM

Standard Safe Diving Form

Thu 14 Dec 2023
12:00 AM

Open Water Induction

Sat 16 Dec 2023
07:30 AM
02 hours 00 minutes
Teams Meeting

In Person Introductions

Sat 16 Dec 2023
07:30 AM
90 minutes
Diveline Scuba Centre

Gear Set-Up

Sat 16 Dec 2023
09:00 AM
60 minutes
Diveline Scuba Centre

Pool Session

Sat 16 Dec 2023
11:30 AM
04 hours 30 minutes
Pool

Open Water Dive 1

Sun 17 Dec 2023
09:00 AM
02 hours 00 minutes
Shore Dive - Tbc

Open Water Dive 2

Sun 17 Dec 2023
12:00 PM
02 hours 00 minutes
Shore Dive - Tbc

Open Water Dive 3

Sat 23 Dec 2023
09:00 AM
60 minutes
Shore Dive - Tbc

Open Water Dive 4

Sat 23 Dec 2023
11:00 AM
03 hours 00 minutes
Boat Dive - Tbc

Open Water Debrief

Sat 23 Dec 2023
03:00 PM
60 minutes
Diveline Scuba Centre

Instructor(s)

: Margaret Pushman,

17 Dec 2023
ReActivate
17 Dec 2023
6
AU$ 250.00

Theory

Mon 11 Dec 2023
02:04 AM

Dive

Mon 11 Dec 2023
02:04 AM

18 Dec 2023
PADI Open Water Diver
20 Dec 2023
4
AU$ 795.00

Complete E-Learning (Must be complete prior to start date)

Mon 18 Dec 2023
12:00 AM
Online E-Learning

Medical Form (Must have a completed Medical Statement prior to start)

Mon 18 Dec 2023
12:00 AM

Liability Release Form

Mon 18 Dec 2023
12:00 AM

Standard Safe Diving Form

Mon 18 Dec 2023
12:00 AM

Open Water Induction

Mon 18 Dec 2023
06:30 PM
03 hours 00 minutes
Teams Meeting

In Person Introductions

Tue 19 Dec 2023
07:30 AM
90 minutes
Diveline Scuba Centre

Gear Set-Up

Tue 19 Dec 2023
09:00 AM
60 minutes
Diveline Scuba Centre

Open Water Dive 1

Tue 19 Dec 2023
09:00 AM
02 hours 00 minutes
Shore Dive - Tbc

Pool Session

Tue 19 Dec 2023
11:30 AM
04 hours 30 minutes
Pool

Open Water Dive 2

Tue 19 Dec 2023
12:00 PM
02 hours 00 minutes
Shore Dive - Tbc

Open Water Dive 3

Wed 20 Dec 2023
09:00 AM
02 hours 00 minutes
Shore Dive - Tbc

Open Water Dive 4

Wed 20 Dec 2023
12:00 PM
02 hours 00 minutes
Boat Dive - Tbc

Open Water Debrief

Wed 20 Dec 2023
03:00 PM
60 minutes
Diveline Scuba Centre

19 Dec 2023
Discover Scuba Diving
19 Dec 2023
0
AU$ 249.00

Knowledge Development 1

Mon 11 Dec 2023
02:04 AM

Confined Water 1

Mon 11 Dec 2023
02:04 AM

Dive 1

Mon 11 Dec 2023
02:04 AM

Instructor(s)

: Jackson Hribar, Margaret Pushman,

21 Dec 2023
PADI Open Water Diver
23 Dec 2023
5
AU$ 795.00

Complete E-Learning (Must be complete prior to start date)

Thu 21 Dec 2023
12:00 AM
Online E-Learning

Medical Form (Must have a completed Medical Statement prior to start)

Thu 21 Dec 2023
12:00 AM

Liability Release Form

Thu 21 Dec 2023
12:00 AM

Standard Safe Diving Form

Thu 21 Dec 2023
12:00 AM

In Person Introductions

Thu 21 Dec 2023
07:30 AM
90 minutes
Diveline Scuba Centre

Gear Set-Up

Thu 21 Dec 2023
09:00 AM
60 minutes
Diveline Scuba Centre

Pool Session

Thu 21 Dec 2023
11:30 AM
04 hours 30 minutes
Pool

Open Water Induction

Thu 21 Dec 2023
06:30 PM
03 hours 00 minutes
Teams Meeting

Open Water Dive 1

Fri 22 Dec 2023
09:00 AM
02 hours 00 minutes
Shore Dive - Tbc

Open Water Dive 2

Fri 22 Dec 2023
12:00 PM
02 hours 00 minutes
Shore Dive - Tbc

Open Water Dive 3

Sat 23 Dec 2023
09:00 AM
02 hours 00 minutes
Shore Dive - Tbc

Open Water Dive 4

Sat 23 Dec 2023
12:00 PM
02 hours 00 minutes
Boat Dive - Tbc

Open Water Debrief

Sat 23 Dec 2023
03:00 PM
60 minutes
Diveline Scuba Centre

22 Dec 2023
ReActivate
22 Dec 2023
8
AU$ 250.00

Theory

Mon 11 Dec 2023
02:04 AM

Dive

Mon 11 Dec 2023
02:04 AM

Instructor(s)

: Margaret Pushman,

23 Dec 2023
Enriched Air Diver
24 Dec 2023
8
AU$ 350.00

Enrichard Air (Nitrox) Liability Form

Sat 23 Dec 2023
12:00 AM
Diveline Scuba Centre

Medical Forms

Sat 23 Dec 2023
12:00 AM
Diveline Scuba Centre

Analysis Demo/Practice

Sat 23 Dec 2023
12:00 AM
Diveline Scuba Centre

ELearning/Knoweldge Reviews

Sat 23 Dec 2023
12:00 AM
Diveline Scuba Centre

Quick Review

Sat 23 Dec 2023
12:00 AM
Diveline Scuba Centre

Instructor(s)

: Ben Barnewall,